What is Certificate of Incorporation
You will receive official email notification confirming the incorporation of Company from ACRA.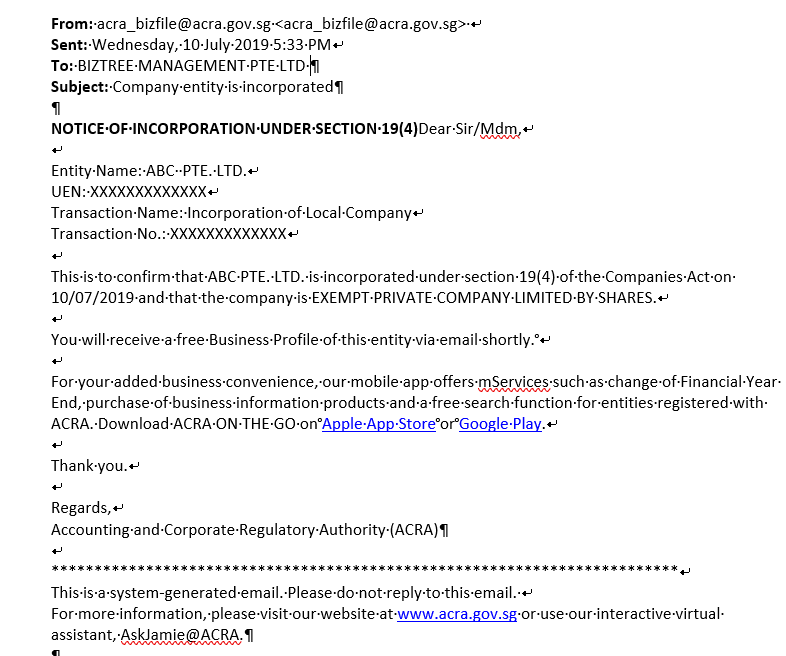 With such email notification, is proof that company is successfully incorporated with ACRA and treated as separate legal entity with its own identity which allowed it to have :
ability stand on its owned
ability to own property by its name
ability to sue and be sued
Information shown on the E-Certificate of Incorporation :
date of incorporation
company official name
company registration number / UEN number
Type of Pte ltd company as follow :
Exempt Private Company limited by shares
Private company limited by shares
Public company limited by guarantee
Public Company limited by shares
Unlimited Exempt Private Company
Unlimited Private Company
Unlimited Public Company
What if my company's name changes, Do I need a new certificate of incorporation ?
You will be receive email notification called " Certificate change of company name "
Apart from the NEW company name. all the detail shown on the certificate will be the same as the original certificate of incorporation .
How do i get physical copy of Certificate ?
If you need hard copy of the certificate, you may log in to www.bizfile.gov.sg to purchase .
Information needed to log in :
Company Registration number
Upon log in , please click on "Buy information"menu -> "Other Information" -> "Certificates"-> "Buy Now" ->Key in Company registration number ->Buy information ->click on the Certificate confirming incorporation ->make payment